I can't afford two new crowns.
To see how this case turned out, press here.
This summer we had a patient call our office.  She asked if she could set up an appointment to have her tooth looked at.  She noticed that a piece of her tooth was missing, and she didn't know if a piece of the tooth had broken off, or a piece of the filling was gone.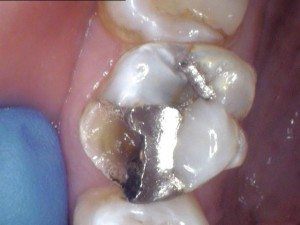 The mesial buccal cusp is broken off tooth #14.
After looking at the tooth, The filling looks pretty much intact. The way I see it, a piece of the tooth broke off. If you look closely at the tooth you can see other cracks. The tooth does have the potential of more pieces breaking off. The patient wasn't having any discomfort or pain, and so, for the sake of completeness, we asked if we could take an x-ray of the tooth.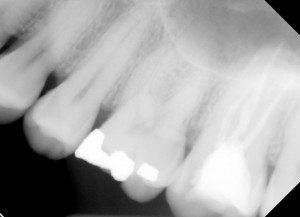 Tooth numbers 14 and 15 both need crowns.
I remember looking at this x-ray thinking, that's too bad. Tooth number 15 needs a crown, because of the root canal treatment. Any time a back tooth has a root canal, it's recommended that a crown be placed. It can be disheartening to go through with a root canal, then lose it, when the tooth splits in half. The crown prevents the tooth from this occurring.  The patient needs two crowns.
To see how this case turned out, press here.
Seasons of Smiles Dental
Norman Medina DDS
100 Elm St.
Camden, Maine 04843
For more information on how to reach us after hours for dental Emergencies press here. Seasons of Smiles Dental serves the Midcoast area of Maine. In you live in any of the villages or towns of
Alna, Boothbay, Boothbay Harbor, Bremen, Bristol, Damariscotta, Dresden, Edgecomb, Jefferson, Monhegan Island, Newcastle, Nobleboro, Somerville, South Bristol, Southport, Waldoboro, Westport, Whitefield, Wiscasset
Appleton, Camden, Cushing, Friendship, Hope, Isle au Haut, Matinicus Isle, North Haven, Owls Head, Rockland, Rockport, Saint George, South Thomaston, Thomaston, Union, Vinalhaven, Warren, Washington
Belfast, Belmont, Brooks, Burnham, Frankfort, Freedom, Islesboro, Jackson, Knox, Liberty, Lincolnville, Monroe, Montville, Morrill, Northport, Palermo, Prospect, Searsmont, Searsport, Stockton Springs, Swanville, Thorndike, Troy, Unity, Waldo, Winterport
Contact us
New Patient Welcome