Hammond Lumber Company
30 Belmont Avenue
Belfast, ME 04915-6860
Phone: 207-338-4080
Email: pe@ebsbuild.com
Fax: 207-338-2944

Our Story
In 1953, Clifton "Skip" Hammond borrowed $50 from his wife, Verna, bought a sawmill and started a lumber business in Belgrade, Maine.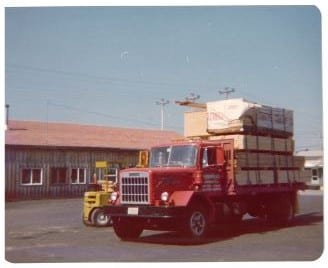 Total number of employees, including himself: three.
In the years since Hammond Lumber Company has grown into one of Maine's largest independent building suppliers. In addition to the ever-expanding sawmill, there are now twelve retail stores around the state and also Hammond's Maine Pine Log Homes division, which manufactures and markets log-home building packages.
Total number of employees today: over 800!
Skip Hammond's philosophy from the start was to saw straight, talk straight, and do more for his customer than the guy down the road would do. Son Donald, who started the retail stores in the late '60s, and grandson Michael, who has added highly successful product lines such as ShoreMaster Docks and spearheaded the company's recent expansion, have followed suit.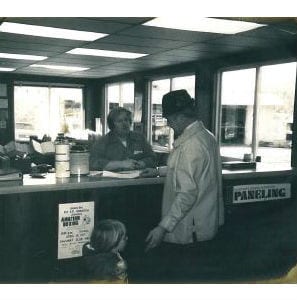 Skip, who always preferred riding a bucket loader to riding a desk, stepped aside as company president a few years ago, handing the title over to Donald, who in turn handed the vice-presidency over to Mike. Skip still routinely visits the Belgrade store to share stories with the staff while his wife, Verna, is also a regular presence.
The start of retail…
Donald Hammond opened the first retail store, next to the sawmill in Belgrade, in 1967, when he was just out of high school. Skowhegan was added in 1975 followed by Farmington in 1983, Auburn in '89, Greenville in '91 and Fairfield in '97. Mike spearheaded the purchase of the Bangor Store from Wickes Lumber in '02, the construction of Portland in '08, the purchase of Brunswick from Downeast Energy in 2010, and the purchase of Boothbay, Damariscotta, and Pemaquid from New England Building Materials in 2011. Maine Pine Log Homes was launched in 1987.

"We've been really lucky to have so many good people work with us along the way," says Donald Hammond, "and so many who have stayed with us for a long time. That solid core of stability and experience has allowed us to keep expanding our products, services, and stores."
Companywide, there are over 120 people who have worked for Hammond Lumber for more than ten years. More than 40 have been with the company 20 years, and almost 20 have been with Hammond for more than 30 years. Others now working for the company, especially in the newer Hammond stores, have many years of prior experience in the industry.
"That's the story right there," says the man who started the retail stores. "It's about people. The more people you have with experience in this business –and especially experience with us– the more you can accomplish. You can't do this by yourself."
Other Locations
Camden
50 Union Street
Camden ME 04843-2023
Phone:
207-236-3371
Fax:
207-236-8034
Rockland
103 Maverick Street
Rockland ME 04841-2439
Phone:
207-596-6205
Fax:
207-596-6864
Auburn
282 Poland Road
Auburn ME 04210
Phone:
1-800-HEY-AUBN
Fax:
207-782-7780
Bangor
1087 Hammond Street
Bangor ME 04401
Phone:
1-866-HEY-BANG
Fax:
207-947-4960
Bar Harbor
1513 State Hwy 102
Bar Harbor ME 04609
Phone:
1-800-834-7292
Belgrade
2 Hammond Drive
Belgrade ME 04917
Phone:
1-800-HEY-BELG
Blue Hill
112 Main Street
Blue Hill ME 04614
Phone:
1-800-244-6665
Fax:
207-374-2155
Boothbay Harbor
276 Townsend Avenue
Boothbay Harbor ME 04538
Phone:
1-855-270-3003
Fax:
207-633-7110
Brunswick
20 Spring Street
Brunswick ME 04011
Phone:
1-877-341-2420
Fax:
207-373-9383
Bucksport
4 Gross Point Road
Orland ME 04472
Phone:
1-800-640-4328
Fax:
207-469-2826
Calais
372 South Street
Calais ME 04619
Phone:
1-800-244-4329
Fax:
207-454-2643
Cherryfield
82 Milbridge Road
Cherryfield ME 04622
Phone:
1-800-439-4327
Fax:
207-546-7349
Damariscotta
511 Main Street
Damariscotta ME 04543
Phone:
1-855-249-3479
Fax:
207-563-1263
Ellsworth
261 State Street
Ellsworth ME 04605
Phone:
1-800-244-7134
Fax:
207-667-6043
Fairfield
5 Summit Street
Fairfield ME 04937
Phone:
1-888-HEY-FAIR
Fax:
207-453-9493
Farmington
389 Farmington Falls Road
Farmington ME 04938
Phone:
1-800-HEY-FARM
Fax:
207-778-3283
Greenville
17 Minden Street
Greenville ME 04441
Phone:
1-800-HEY-GRVL
Fax:
207-695-3977
Machias
9 Quoddy Lane
Machias ME 04654
Phone:
1-800-427-4329
Fax:
207-255-8877
Portland
300 Riverside Street
Portland ME 04103
Phone:
1-888-HEY-PTLD
Fax:
207-771-8882
Skowhegan
34 Pennell Street
Skowhegan ME 04976
Phone:
1-800-HEY-SKOW
Fax:
207-474-6504
Hammond Lumber Company Receives 2019 Industry Leader ...

By Hammond Lumber Company - 08/05

The National Safety Council recently announced that seven Hammond Lumber Company stores have won the 2019 Industry Leader Award for outstanding safety. The award goes to the top 5 percent of NSC member companies, units and facilities that have qualified for the Occupational Excellence Achievement...

Ellsworth Builders Supply Customer Appreciation Day

By Ellsworth Builders Supply - 08/18

Join Ellsworth Builders Supply at the Camden Snow Bowl this Saturday August 21, from 10:00-4:00 for customer appreciation day. This event will be to show our gratitude to our local customers and families. We will have a variety of events including: Chairlift rides, hay wagon rides, petting ...