Kiwanis Club of Rockland Meeting Minutes, Monday, September 12, 2016
12 September 2016
NOTE: There was no meeting on Columbus Day - Monday 5 September.
Our meeting was called to order today by President Bill at 12:08 PM.
We met at the Samoset Resort in the Schooner Room.
PLEDGE OF ALLEGIANCE & INVOCATION:
President Bill Batty led the membership in the Pledge of Allegiance, and Jackie Harjula offered the invocation.
GUESTS: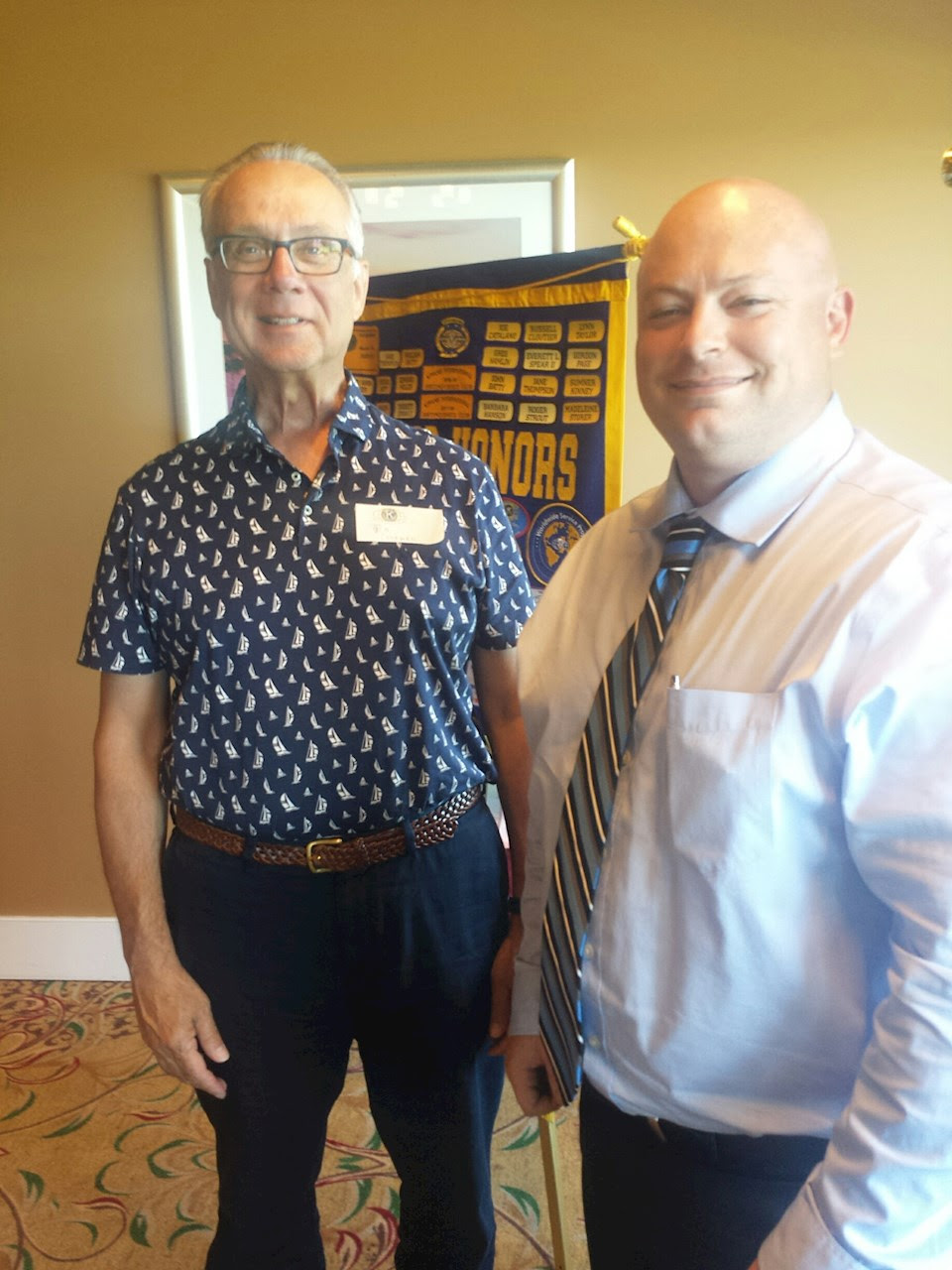 Our frequent and delightful guest Madeline Pease was with us today, as were Ben Coopman, [a visiting Kiwanian from Janesville, Wisconsin]; and Dennis Crockett of Northport, who was an invited guest of John Batty.
Janesville, WI Kiwanian Ben Coopman [left] and Dennis Crockett of Northport were guests at today's meeting.
COMMITTEE REPORTS & CLUB ANNOUNCEMENTS:
INTERCLUBS - Gordon Page reported that there are three interclubs scheduled to visit clubs within [new] Division #3:
Waterville - 

Monday 19 September

- departing Rockland at 

4:30 PM

Augusta - 

Thursday 29 September

- departing Rockland at 

10:45 AM

Pittsfield - 

Monday 10 October

- departing Rockland at TBA

Sign up on the club portal or contact Gordon directly

Oceanside High School Key Club - TODAY - It was also announced that an interclub to Oceanside High School Club was scheduled for today
BULLETIN EDITOR VACANCY - Gordon also announced that he will be stepping down as Bulletin Editor at the end of this administrative year. Contact President-elect Broo Temple if you are interested in the position.
MEALS ON WHEELS - Broo Temple reported that September dates look good but there are available dates in October.
INSTALLATION - Mark Curtis reminded the membership that the annual installation of officers and directors is scheduled for Monday the 26th of September at 6:00 at the Samoset Resort, preceded by a cocktail period beginning at 5:30 in the La Bella Vita bar. Members are encouraged to attend with friends and family to fill the room and celebrate the new administation.
AKTION CLUB - Jackie Harjula reported that they will host a BBQ for residents of the Rankin Center on the 21st of September.
BOARD OF DIRECTORS - President Bill announced that the monthly board meeting for September is scheduled for Wednesday [always the 3rd Wednesday] the 21st. Board meetings are open to all club members.
BIRTHDAYS/ANNIVERSARIES:
Two members were celebrated today for their respective birthdays: E.J. Sullivan, and Janet Page.
SECRET GREETER:
It was a secret today! But President Bill took advantage of his authority and appointed Mark Curtis to be next week's Secret Greeter. But wait, there's more - Mark cannot attend next week's meeting, and he has since recruited someone to fill the role. As a reminder, Secret Greeters are responsible for appointing their replacement for the following weekly meeting.
PHOTO FINES:
None today.
BADGES & PINS:
Amy Shepard was caught without hers.
50/50 RAFFLE:
Following a ticket swap with Dan Saucier, Janet Page won the 50/50, but did not draw the Joker.
HAPPY, $AD, MI$$ED & $TORY DOLLAR$:
Dan Saucier was sad for the recent passing of a friend, but happy for the Patriots and the Red Sox; Jane Merrill paid a dollar because she could not stay for the speaker;Broo Temple was happy for the speaker, and sad for the recent passing of a friend; Jen Brown and E.J. Sullivan both paid missed meeting dollars and sad dollars for having to leave before the speaker; Janet Page was happy for a happy birthday weekend that included dinner at Archer's and a party with family, and she also paid a Calvin story dollar; Jackie Harjula was happy for E.J.'s and Janet's birthdays, happy for our guests, and happy that John Batty and Brenda Batty are on a holiday in England; guest Madeline Pease was happy that she would be spending the day with her Daddy Dan Pease; Amy Shepard and Josh Scholz were both happy for attending a weekend wedding, and for experiencing *bioluminescence; President Bill was happy for our guests, happy for our secretary Greg Hamlin, and happy that Daughter Julia has been safely delivered to university in New Brunswick, Canada.
THIS WEEK'S SPEAKER PROGRAM:
Meredith Batley from the Knox County Health Clinic was our guest speaker today, bringing the club up to date on the efforts to provide medical, dental and prescription assistance to folks in the community who are low income or who have little or no insurance coverage.
Meredith Batley of the Knox County Health Clinic accepts a Kiwanis coffee mug from President Bill.
*Bioluminescence is the production and emission of light by a living 
organism. It is a form of chemiluminescence. Bioluminescence occurs widely in marine vertebrates and invertebrates, as well as in some fungi, microorganisms including some bioluminescent bacteria and terrestrial invertebrates such as fireflies.
A photographic depiction of bioluminescence.
The meeting was adjourned at 1:08 pm.
--
Respectfully submitted,
Gordon Page, Club Bulletin Editor

Come join us any Monday for the fun and fellowship of Kiwanis. We meet at noon for about 75 minutes; and on the last Monday of the month we meet at 6:00 PM, with a social period beginning at 5:30. Our meetings are held at the Samoset Resort in Rockport [in-season] with an alternative location during the winter months. Be sure to check in advance to confirm the meeting venue.  We'd love to see you.